As the summer starts approaching, the first thing every homeowner starts contemplating is servicing and maintenance of their air conditioning system. Many people also buy new air conditioning systems. However, the market is flooded with so many options that the entire idea of making a purchase can be battling for some. In order to help you in your purchase decision, we have created this blog where in we cover the different types of air conditioning systems available in the market and the key pointers that you should be taking into account when making a purchase.
It is a device which is used to cool and dehumidify the area and the home or office premises. There are different types of air conditioning units like Central air conditioners, window AC covers, Tower AC and others. The HVC systems have also become very popular because of their dual purpose. You can use them during the summer which is so cool in the atmosphere, and during the winter season, they are effective in heating up the room temperature, thereby ensuring a comfortable environment.
This air-conditioning system works by using refrigerants to cool the air and humidifier it. These refrigerants are circulated in the system through the coil and a compressor which helps in removing the heat and moisture from the air, thereby inducing a cool temperature.
In addition to buying the best air conditioning system, it is equally significant that you should focus on its timely servicing and maintenance. It ensures that the air conditioning system is working seamlessly throughout the season and is working at its best.
There are several types of air conditioning systems to choose from, including:
Central air conditioning- In this type of system, there is an outdoor unit which can dictate to the indoor unit viaduct. The outdoor unit has the compressor and condenser, while the indoor unit comprises the evaporator. Central air conditioning is systematically installed in homes and businesses to cool the entire space.
Window air conditioners- If you come across households and buildings from the previous days, you would be able to spot window air conditioning systems the most. Previously, these air conditioning systems were in fashion to some great extent. However, with advancing days, split systems have surfaced up in the markets these days.
Portable air conditioners- Sometimes, you may need a portable air conditioner to move from one room to another. These come with a hose which is used to vent the hot air outside. These are a good choice for renters who are looking for cooling in a specific area.
Ductless mini-split air conditioners- This type of air conditioning system is a  choice for businesses that are looking for efficient cooling but without getting into the entanglement of the ducting systems.
Things to consider when buying an air conditioning system
When buying an air conditioning system, there are several factors you should consider to ensure that you choose the right system for your needs:
Size– The size and capacity of the air-conditioning system are also important. It eventually defines its efficiency in cooling the room. Make sure that in your mind and air conditioner, you choose an option which is sufficient to pull up the entire space effectively.
Efficiency- The energy efficiency of the air-conditioning system is also important. You should check the high-energy efficient ratio when making a purchase, as it will help you in saving on energy bills and reducing the carbon footprint
Type– The type of air conditioning system also has an impact on the overall aesthetic and efficiency of cooling. For example, window ACs are  good choice for smaller rooms; however, if you have a bigger area to cater to, investing in an HVAC system or central cooling unit is good.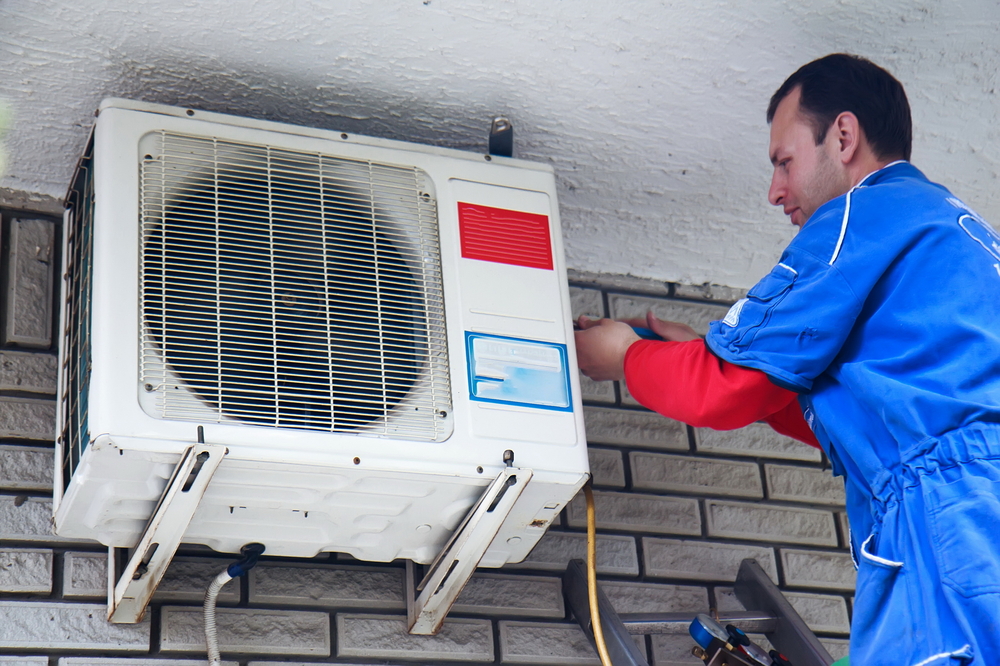 Cost-Consider the upfront cost of the air-conditioning system when you're making your purchase. However, you should also emphasize the long-term cost. Consider the upfront cost of the air conditioning system as well as the ongoing operating costs. Energy-efficient systems may have a higher upfront cost, but they can save you money on energy bills in the long run.
Installation: Make sure to reason with the costs of installation when budgeting for your air conditioning system. Some systems may require professional installation, while the homeowner can install others.
Maintenance: In addition to finding the right type of air-conditioning system for your home, it is also important to focus on its repair and maintenance. Timely servicing and maintenance of the air conditioning service show its longevity and high performance throughout the season.
Wrapping it up!!!
These are some of the significant factors that you should look for when buying an air conditioner for your home. Make sure that you compare the different brands and features of the air-conditioning system before making a purchase.
.